2018.03.19.Mon
Family-friendly Lunch at Japanese pub Restaurant "Manmaru"
Alsmost right below Nishikujo station, there is a Japanese chain-Izakaya called "Manmaru". It's a popular place to go for a drink, but also a family-friendly lunch option. If you're looking for delicious lunch options in Nishikujo, Osaka, don't miss Manmaru.
Izakaya are Japanese pub restaurants, where you can enjoy drinking and eating a variety of different dishes on small plates. People often visit them in the evening to have a drink with friends or colleagues, but some are open during lunch as well.
The outside of Manmaru looks really adorable with its paintings of Osaka's most famous characteristics, like the Tsutenkaku tower or Biliken and the wooden front.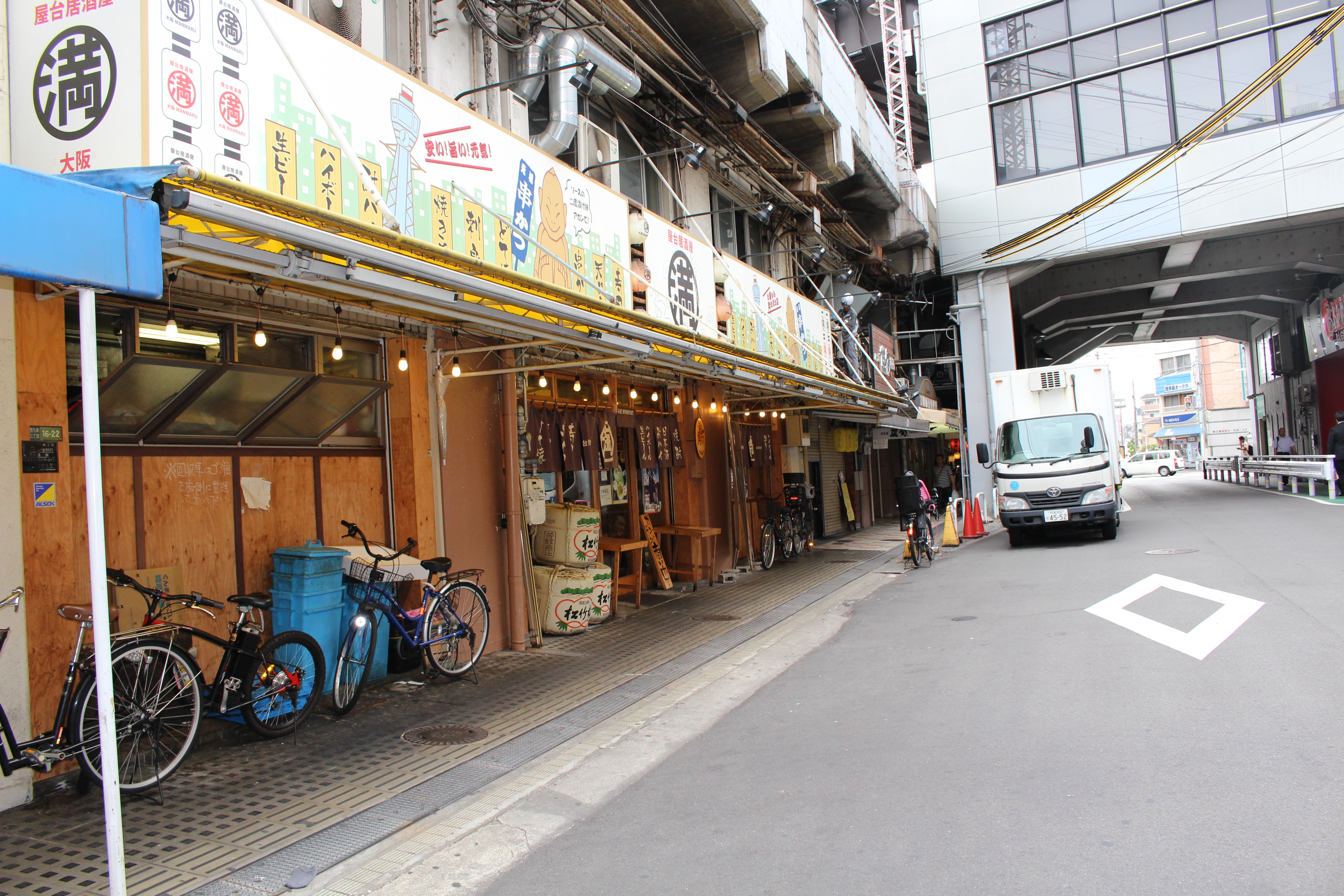 When you enter Manmaru, you will immediately feel enamored by the Izakaya feeling the restaurant exudes.
Just as expected, inside some local people are already having a good time with a glass of beer, although it's only lunch time.
Once you enter Manmaru, you'll see that they offer a big variety of dinner options. Anything your heart could wish for.
As I mentioned before, normally people go to an Izakaya for dinner, but like some other Izakayas, Manmaru offers a lunch menu as well. I feel kind of tempted to have a drink like some of the locals do, but decide not to. I am here to try the lunch menu after all.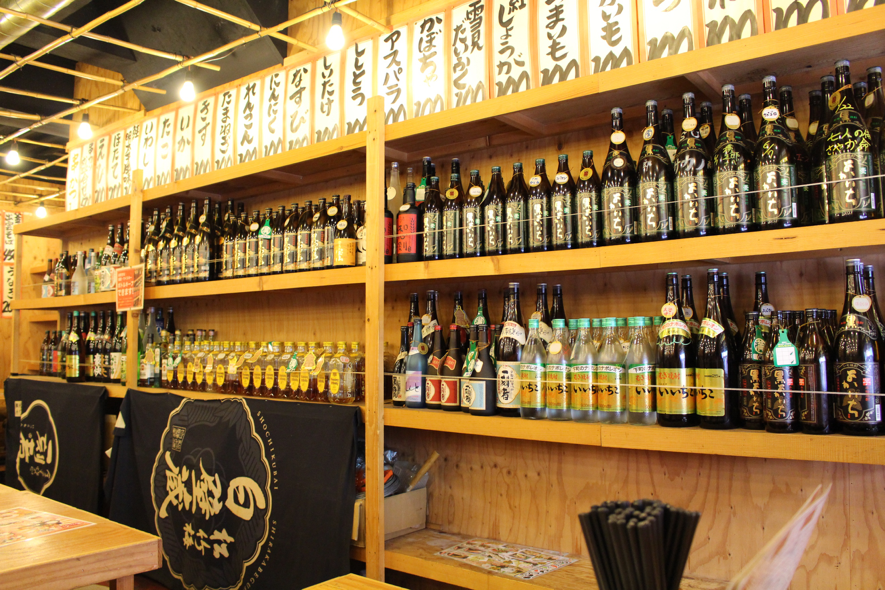 But it's so hard to choose. The restaurant offers about a dozen different options for lunch. They all take the form of "teishoku" (定食), a set of food that generally always includes a varying main dish, miso soup, rice, some vegetable side dish and pickled vegetables.
The main dishes Manmaru offers include fish, beef, chicken, pork, curry and even sushi. While I am tempted to try some sushi, the teishoku feels like the smarter option to me.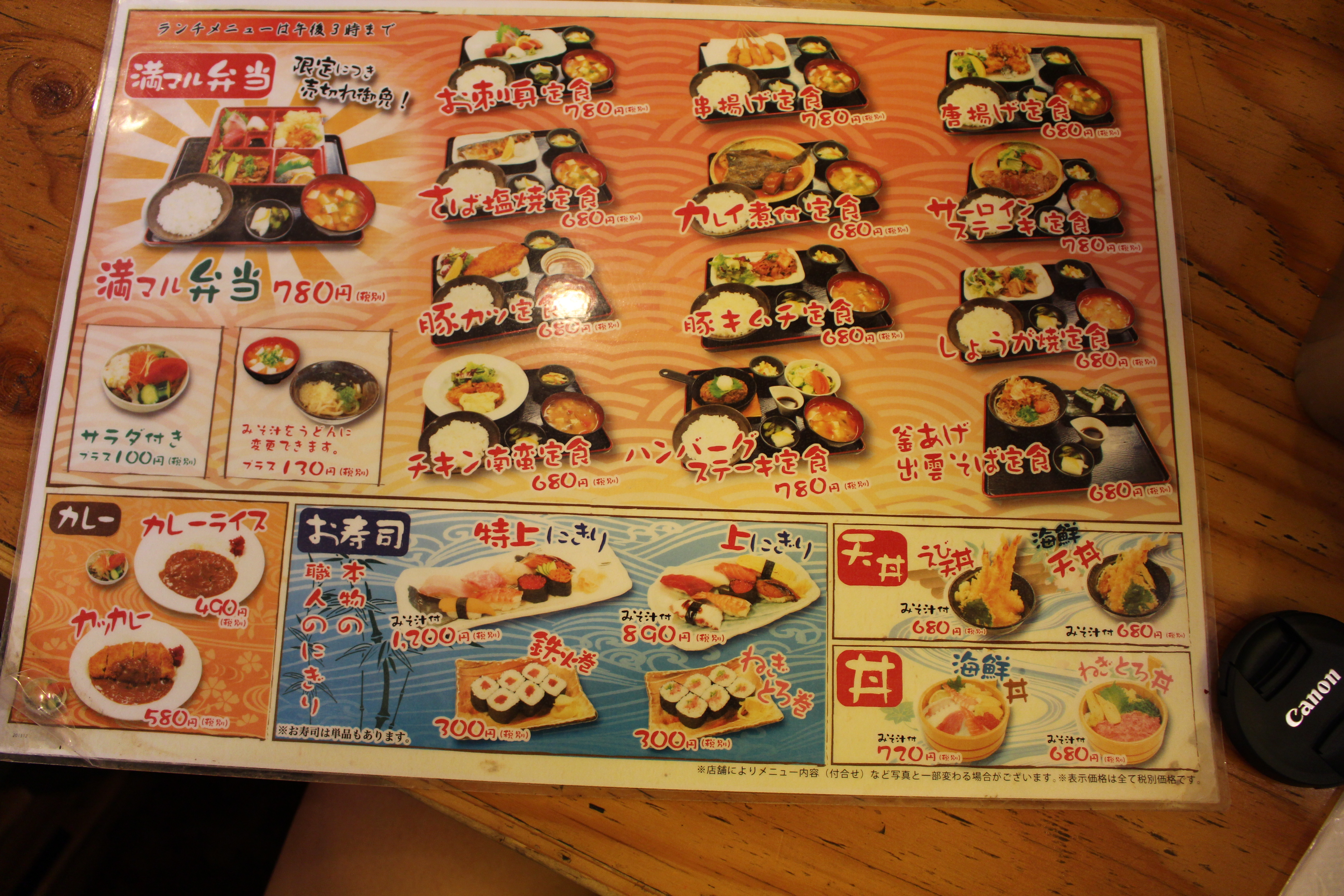 I therefore decide to order a set with broiled fish flavored with soy sauce.
Healthy Japanese Lunch: Teishoku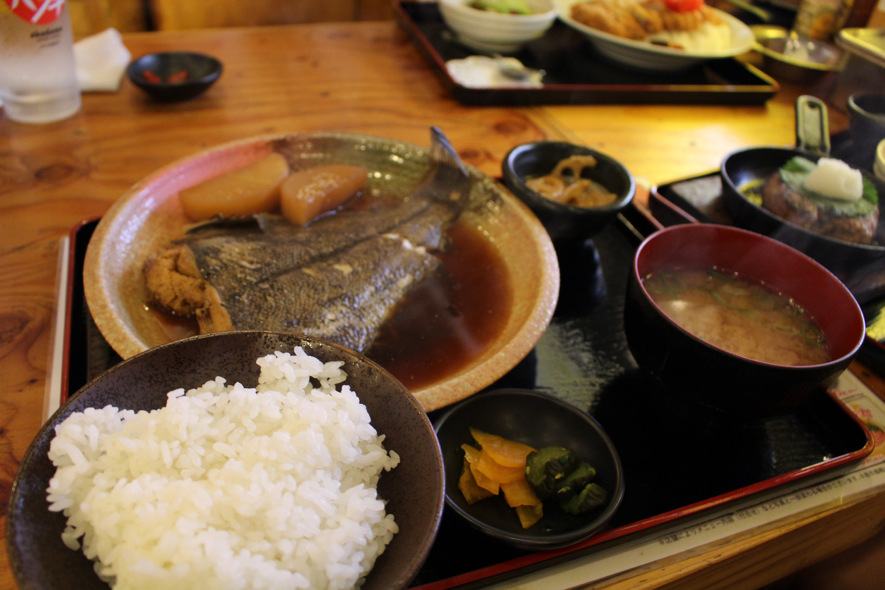 As with all lunch sets like these, I try the miso soup first. That is how you eat in Japan. You start with the soup first. It has a really gentle taste that warms up my body from within.
The next item is the main dish: fish. To be more specific, a type of flounder  that is called "Karei" in Japanese. While it is a fish that is eaten quite often in Japan, I cannot remember the last time I ate it. Anyway, Fish is a very healthy choice, as it's really good for your brain and it also tastes great.
Another item that's always included in lunch sets like these is "tsukemono" (漬物). Tsukemono include all types of pickled vegetables. You can find many different sorts of Tsukemono in supermarkets all over Japan. They are supposed to be really good for your body and they fit really well with sets like these.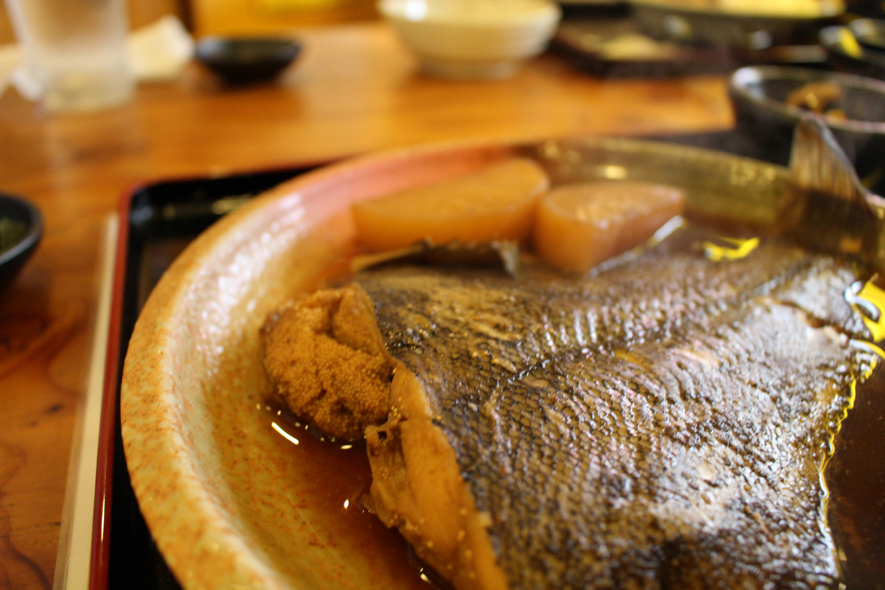 The broiled fish is really soft, it practically melts inside my mouth. I find myself going for more and more rice because the two just fit so well together.
The taste and seasoning of Karei (flounder) is the perfect partner for the simple, white rice.
It's a shame that I had almost forgotten how delicious Karei was.
I have to come back here soon to try some of the other lunch dishes. They must be just as good.
Thank you for a good lunch break! I hope I could inspire you to visit Manmaru during lunch time and try some authentic Japanese Teishoku as well!
INFORMATION
Manmaru
Address

Osaka-city Konohana-ku Nishikujo 3-16
TEL

06-6110-5959
Open

11:00-0:00
Closed

Open all year