2018.12.08.Sat
International Cuisine at an Okonomiyaki Restaurant ?
Right next to Fuse station there's a Teppanyaki restaurant that will surely surprise you. It's called "Yoshihiro" and is just 4 minutes by foot from SEKAI HOTEL Fuse.
Beloved by locals, this restaurant has an incredible history of 70 years since its opening in 1948. Have you been wanting to try one of Osaka's most famous dishes called Okonomiyaki? Then Yoshihiro is the place for you.
Not Your Usual Teppanyaki Restaurant
Yoshihiro can be found quite easily next to Fuse station if you just focus on the shop curtain. These kind of shop curtains can be found in different colors and designs in entrances of restaurants or public baths all over Japan.  Yoshihiro's is white with a black font and small drawings on it.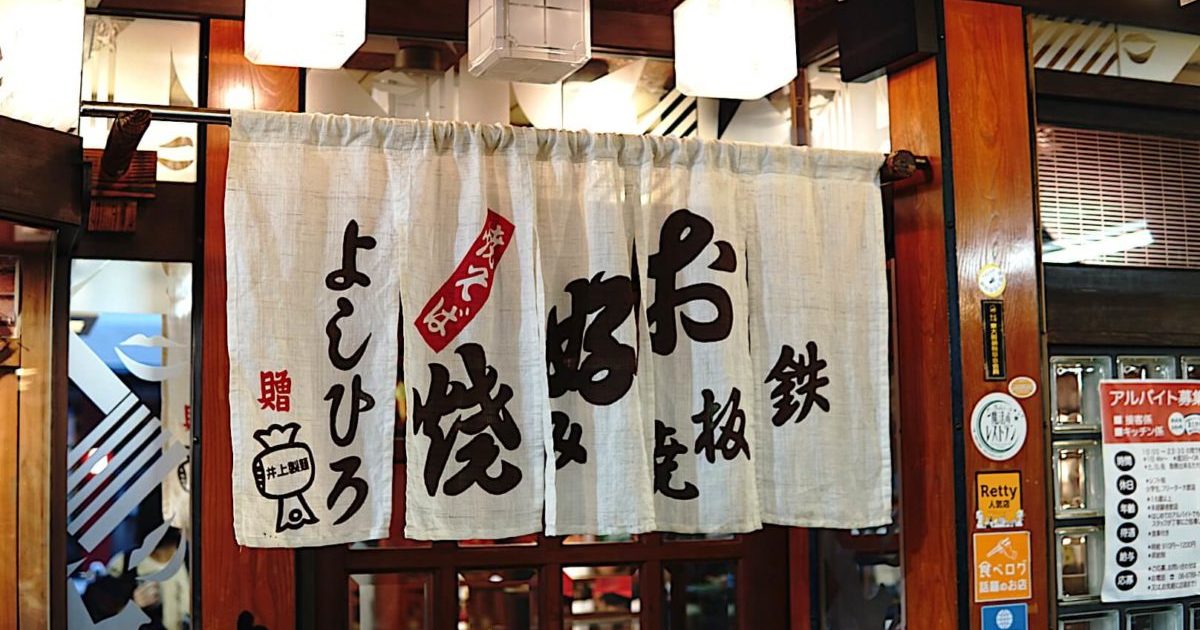 Before you even get the chance to enter Yoshihiro, your eyes will most likely be drawn to the realistic-looking food in the showcase. As you may know, these food samples are widely used in Japan to show the customer what the restaurant offers and in doing so, to lure the customer into a store.
Yoshihiro, however, has something special in their showcase. Despite being a Teppanyaki restaurant, you can see a French food called Galette and German Frankfurter sausages in the showcase. Unexpectedly international for a Teppanyaki restaurant. Makes you wonder why.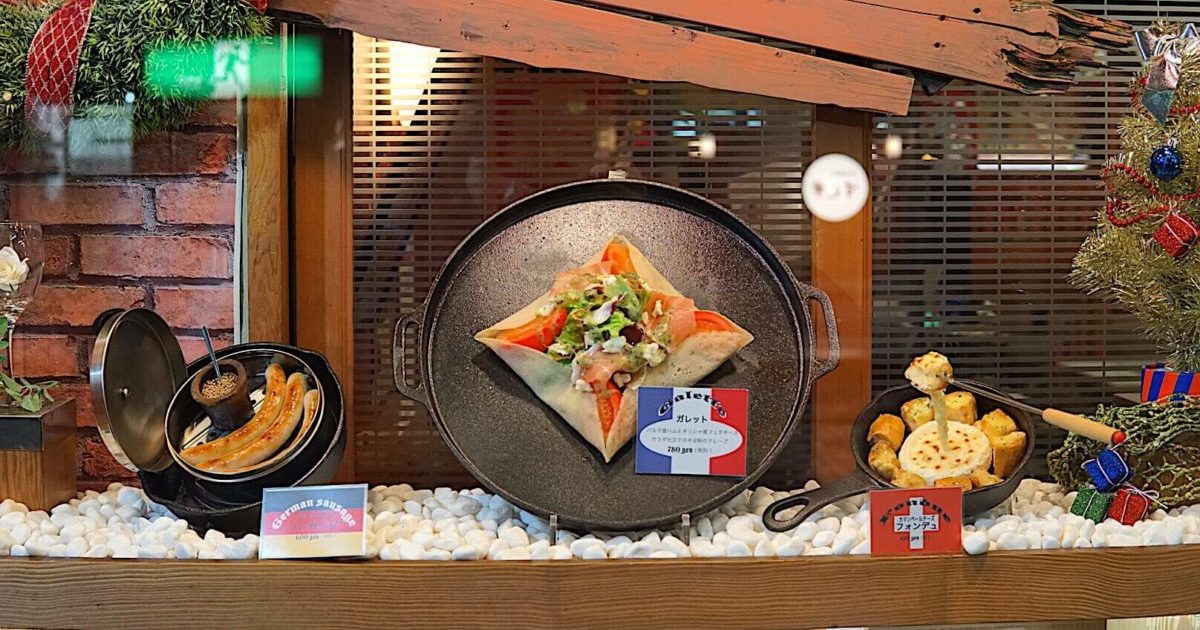 Once you enter, you'll be welcomed into a warm interior. Inside, there are 48 table seats, making it quite a spacious restaurant for rather cramped Japan.
American music is being played over the speakers, and the inside is always nicely decorated.
The American music and colorful decorations are quite different from images of typical Japanese Teppanyaki restaurants. Makes you further wonder where the international flair is coming from…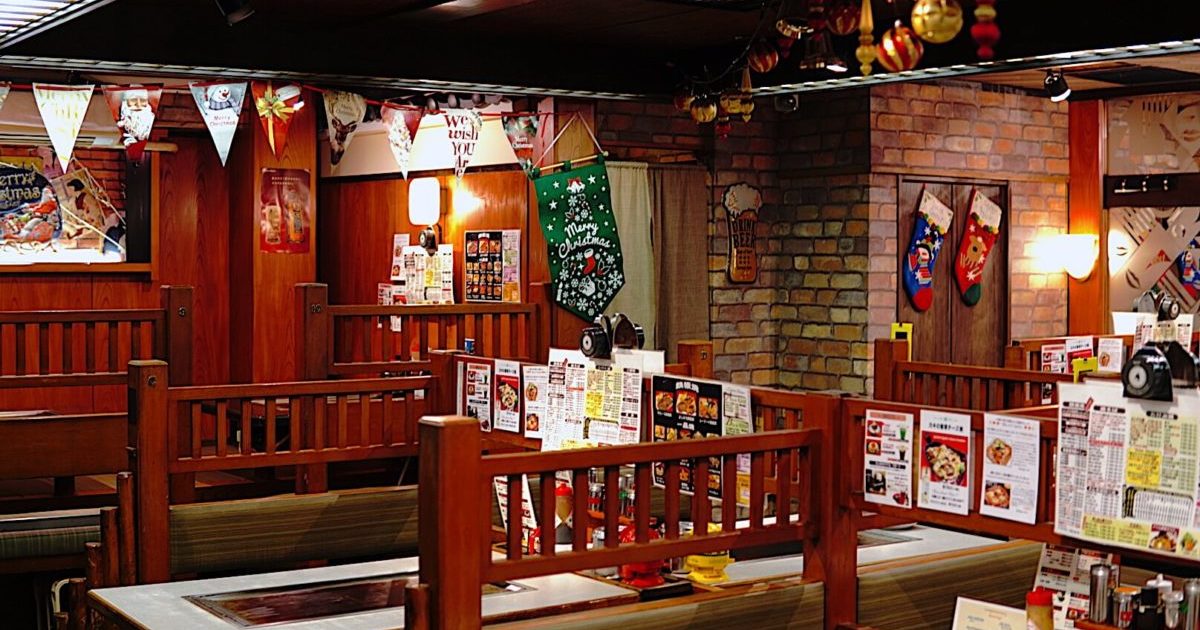 Abundant and Delicious Menu
Taking a look at the menu, there is a regular Okonomiyaki menu and surprisingly, various kinds of curry sets as well. Even international foods like the German sausages seen in the showcase can be found on the menu!
A rich menu like this is hard to find anywhere else. One of this restaurant's charme points really is that there is something enjoyable for everyone, no matter what you're craving.
But now, let's talk about Yoshihiro's staple food: Okonomiyaki.
The "Mix Yaki" is a really popular kind of Okonomiyaki that Yoshihiro offers. It includes squid, shrimp, pork and "Mochi bacon cheese Yaki"! Not only is the taste great,  but since the staff cooks the food right in front of your eyes, it makes for an experience you don't want to miss.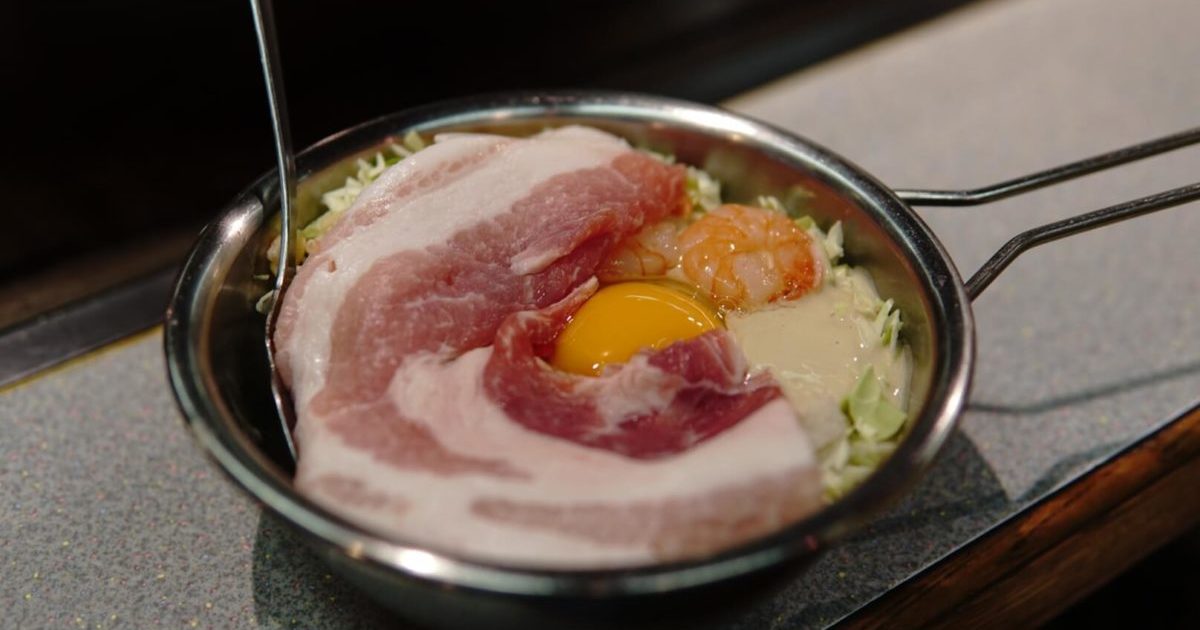 Yoshihiro's Okonomiyaki are special, because they contain less dough than other restaurants' Okonomikyaki. In order to not make the stomach feel too heavy, the staff uses a reduced amount of dough. Another reason for this tactic is that the staff want you to feel the taste of every single ingredient distinctly for a more delicious experience.
The Mysterious American Atmosphere
If you take a look around the restaurant while enjoying your Okonomiyaki, you may realize that there are a lot of awards and certificates on the walls. There are even some in English!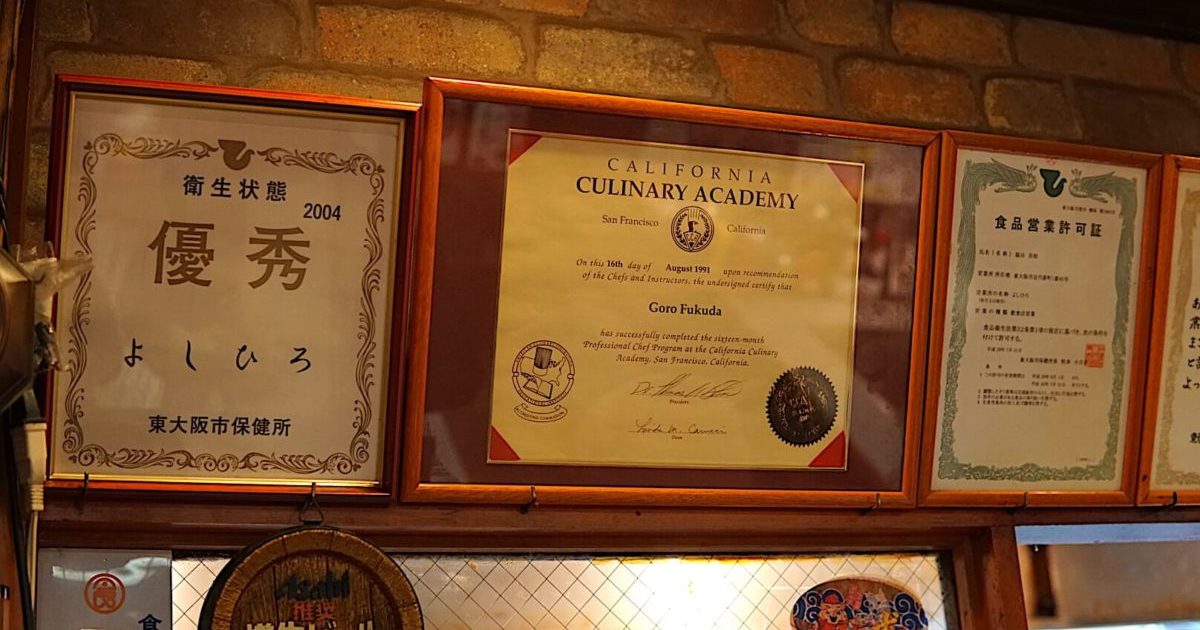 Now you are for sure wondering why there would be English awards in a Japanese restaurant in Higashi-Osaka.
Well, the reason for this is that Mr Goro, the owner, actually moved to America when he was 19 years old. He went to America to study cooking and after graduating from the California Culinary Academy, he started working as a chef in California. The awards are just some of his diploma and they prove how successful he was, overseas and in Japan. His experiences abroad are why Mr Goro offers not only Okonomiyaki, but also a variety of international foods that he studied during his travels around the world.
Another interesting anecdote is that one day during his time abroad, because of all the things he went through, Mr Goro started questioning who he was. After an unforeseen turn of events that Mr Goro didn't explain in detail, he finally got his answer. It was "to succeed his father's restaurant in Japan". Mr Goro said that if he hadn't been abroad for 9 years, he would have never been able to succeed it.
The Best Part about Teppanyaki
Now, let's go back to the topic of Okonomiyaki.
Okonomiyaki has to be cooked on an iron plate for a few minutes before it can be enjoyed. The final step is to pour sauce and toppings onto it. Okonomiyaki are usually eaten with sauce and some mayonnaise on top of it. The sauce can vary from restaurant to restaurant.
Yoshihiro for example offers two kinds of sauce, a spicy and a sweet  & mild one, depending on the customer's taste. Both taste great though.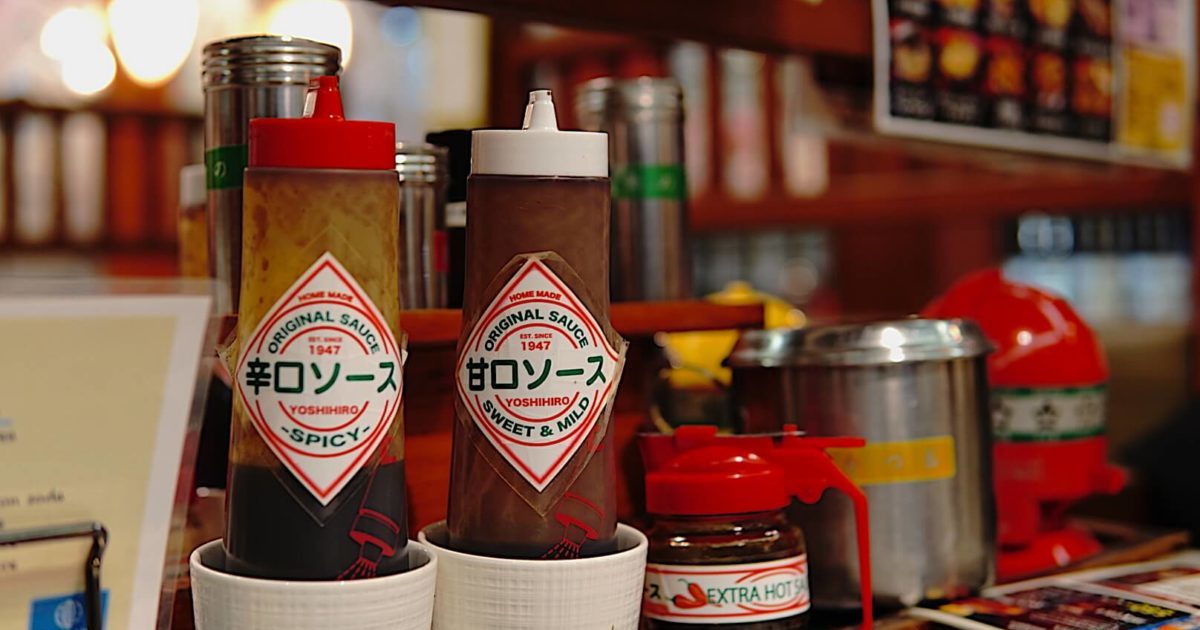 After the sauce, bonito flakes are placed on the Okonomiyaki and that's it. The Okonomiyaki is done!
Make sure to take a close look at the Okonomiyaki during this moment, because otherwise you will miss the dancing bonito flakes. On top of the great smell, that's always the best part about Teppanyaki!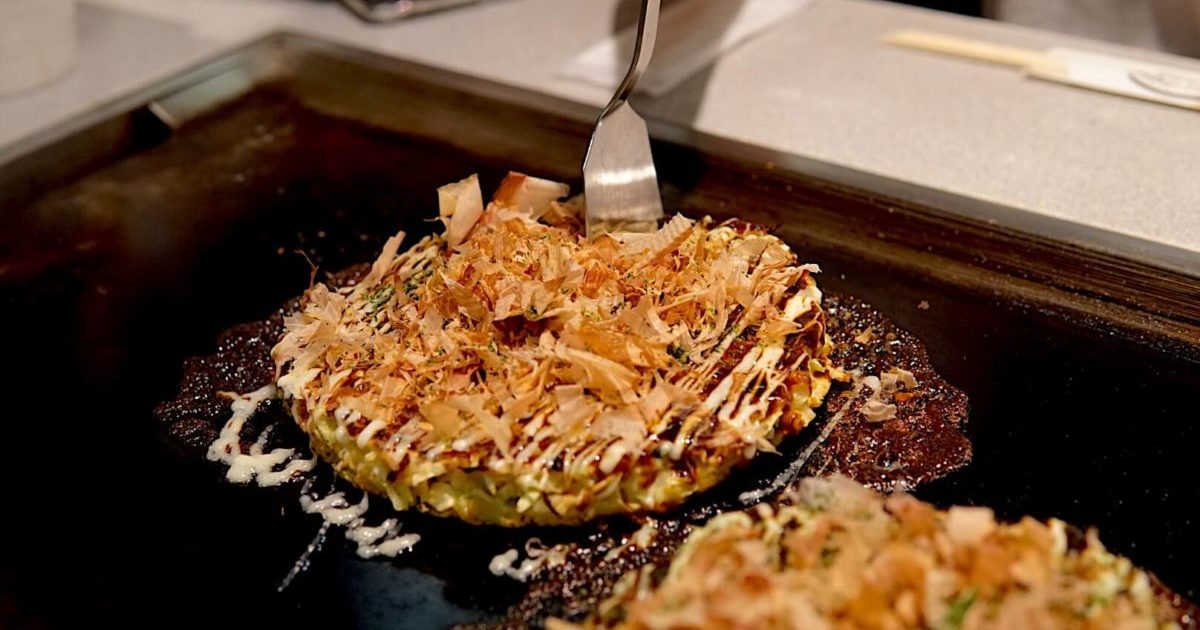 Other than many Okonomiyaki restaurants, Yoshihiro's dishes aren't too heavy on the stomach, so even if you're a light eater, you can eat all of it easily. Yoshihiro offers as many as 21 different kinds of Okonomiyaki, so you can come back and enjoy a new taste every time!
Good Luck!
Another interesting feature of Yoshihiro's that you should definitely try after eating is: this retro fortune telling machine. Put a 100 yen coin in it and turn the lever. The machine will then give you a small capsule. Inside of it, there's a paper that will tell you your fortune. If you have a friend around, maybe ask them to help with the Japanese translation or feel free to ask our reception staff.
Why don't you try it and see how lucky you are?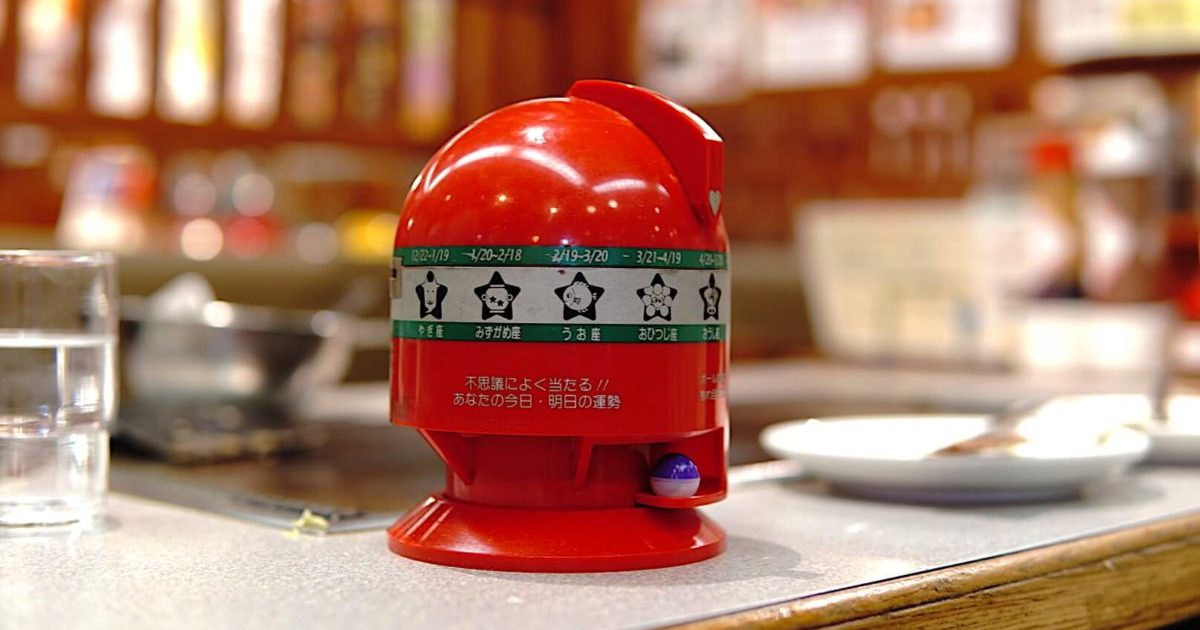 At Yoshihiro, there are always many different types of people. There might be an elderly woman all by herself, but also a salaryman with his colleagues during lunch break or a group of high school students after a long day at school.
Osaka's soul food "Okonomiyaki" is beloved by everyone, no matter the age. So don't miss this chance to try authentic Osaka food in a surprisingly international atmosphere!
INFORMATION
よしひろ"Yoshihiro"
address

Higashiosaka-shi Ajiro Shinmachi 1-45
TEL

06-6789-7149
Opening hour

11:00-23:00