2018.10.28.Sun
A Japanese Town's Bar Event Vol.1: Working Together to Revitalize Fuse
As you may know, the town of Fuse, Osaka is famous for mainly two things: its impressive shopping street and the festival and statue of the god Ebisu (also called Ebessan in Kansai dialect).
But next to the Toka Ebisu Festival, there is another event taking place in Fuse every year that you definitely shouldn't miss. It's called "Fuse Ebisu Bar" and is held in the shopping street, where you can also find SEKAI HOTEL Fuse. Today, we are going to tell you all about this event and about what makes it so fun. In Volume 2 of this article, we'll tell you about our specific experiences at this year's event and introduce some of our favorite spots. Let's start!
What is the "Fuse Ebisu Bar" Event?
"Fuse Ebisu Bar" is an event where the colorful town of Fuse turns into a bar town. Every year, the majority of bars in the area join to make this event special. This year, an incredible number of 67 bars and restaurants worked together so everyone can enjoy many different kinds of foods and drinks.
The event has been held every October for 6 years in a row and becomes more and more popular every year. Actually, it has become so popular that this year was the first time for the event to be held for two days in a row.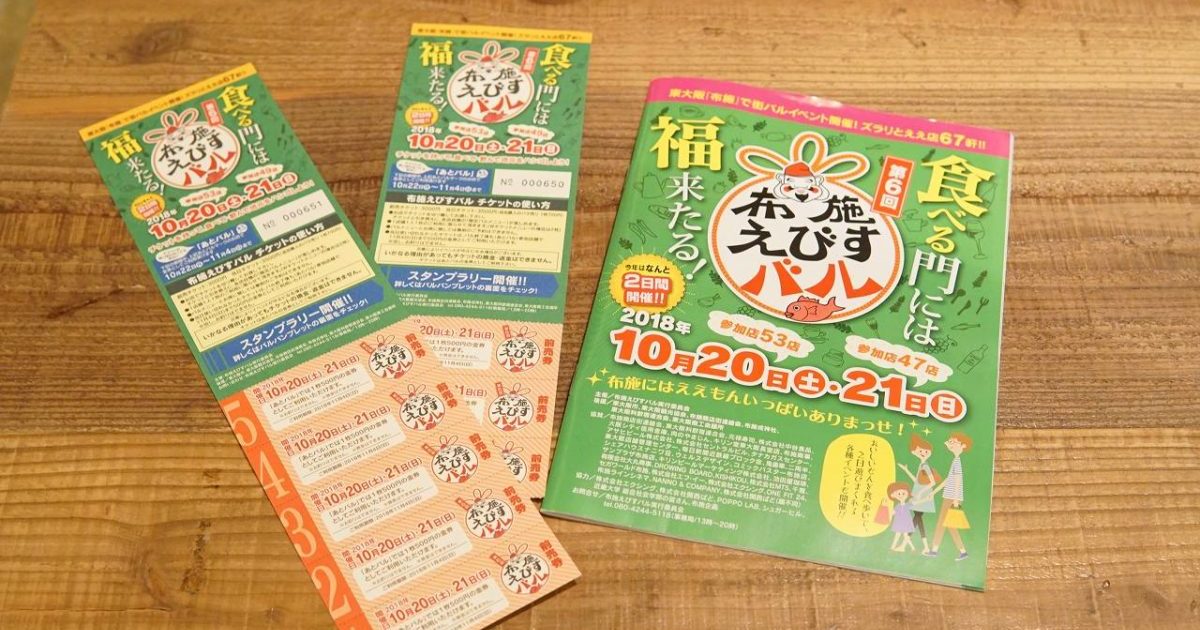 All the bars prepare a special menu which they only offer during the span of this event. To really experience the event deeply, you can buy a ticket with which you can receive food and drink at 5 bars for only 3,000 yen.
Many of the shops will cost you one ticket, which is why the latter ticket that enables you to bar hop for a maximum of 5 bars is definitely a bargain!
If you want to treat yourself, visit one of the bars that offer a special menu for 2 tickets and you'll get to try something really exclusive!
A Part of the Local Community: SEKAI HOTEL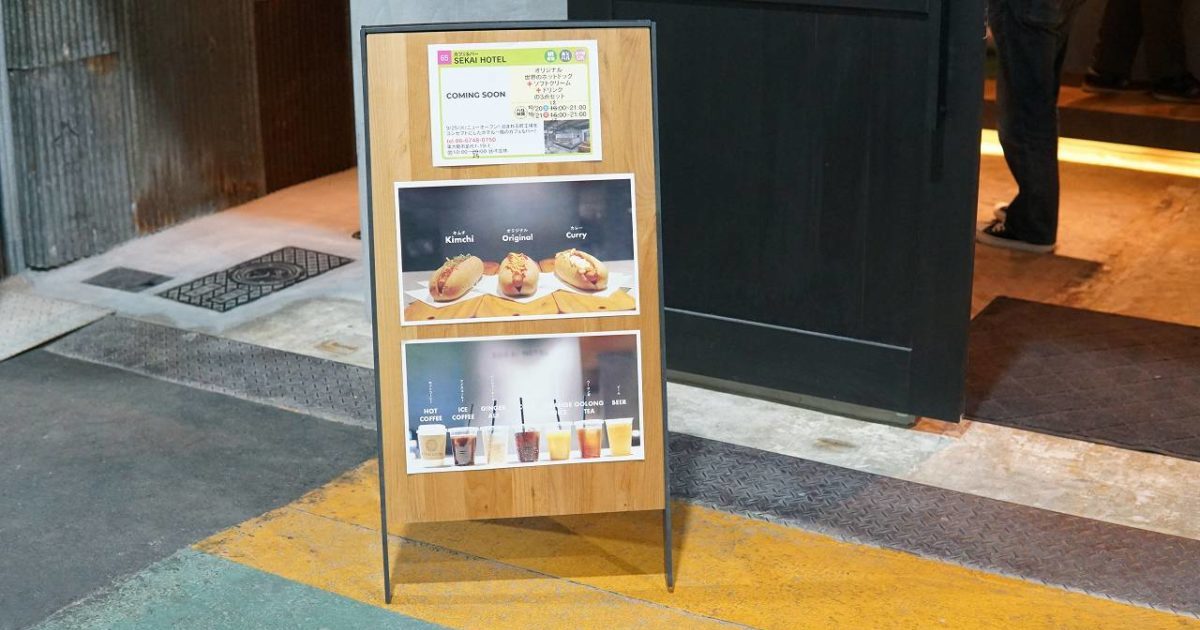 We, at SEKAI HOTEL Fuse also joined the Fuse Ebisu Bar event this year to provide locals and our guests with a special experience.
Here is what our special limited menu looked like:
・Hot dogs from around the world
・Ice cream
・A variety of drinks
The three above are served together as a set at our beautiful café. A real bargain!
Now that we've told you about Fuse Ebisu Bar and introduced SEKAI HOTEL's part in the event, let's join the event ourselves and visit some of the shopping street's bars!
Nightly bar Event in a Japanese Shopping Street
Holding our tickets and the event brochure, we are on our way to Fuse's bars. Almost immediately after leaving SEKAI HOTEL, a bunch of shops along the street show up, because the night market takes place today as well.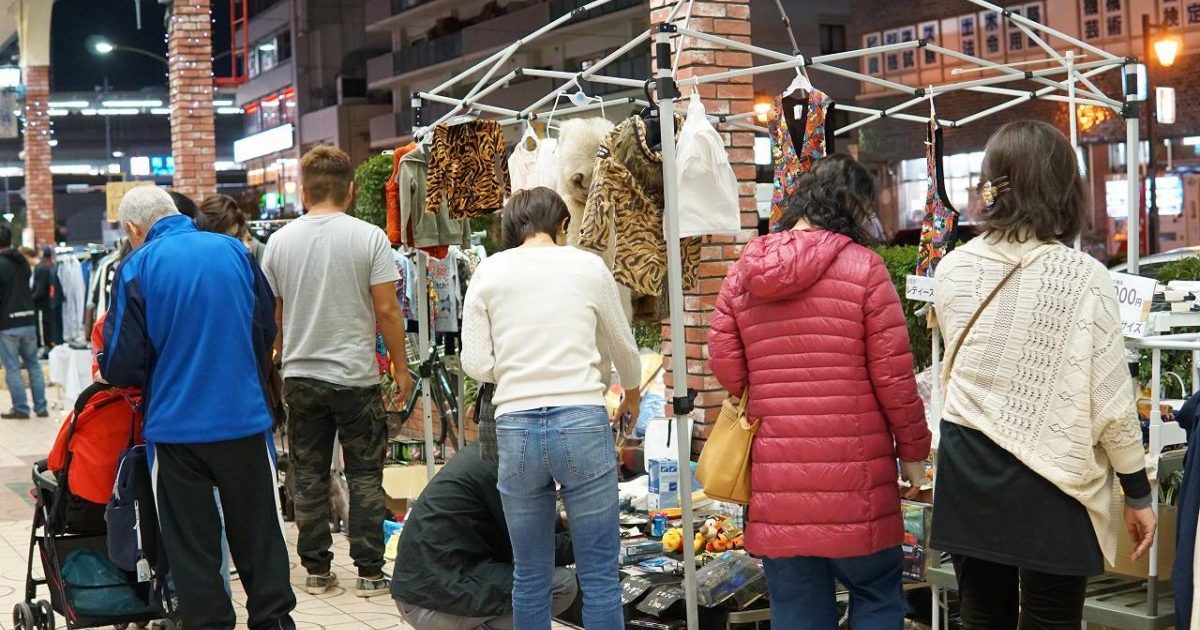 We are heading to our favorite bar while also looking around the various goods the market sells.
When suddenly two very mysterious, muscular men without shirts on appear in front of us. They look kind of suspicious walking around the shopping street half-naked, so we try to avoid eye contact and pass them as quickly as possible.
To everyone's surprise, they start talking to us and turn out to be really friendly and welcoming people.
Osaka Culture: Making People Laugh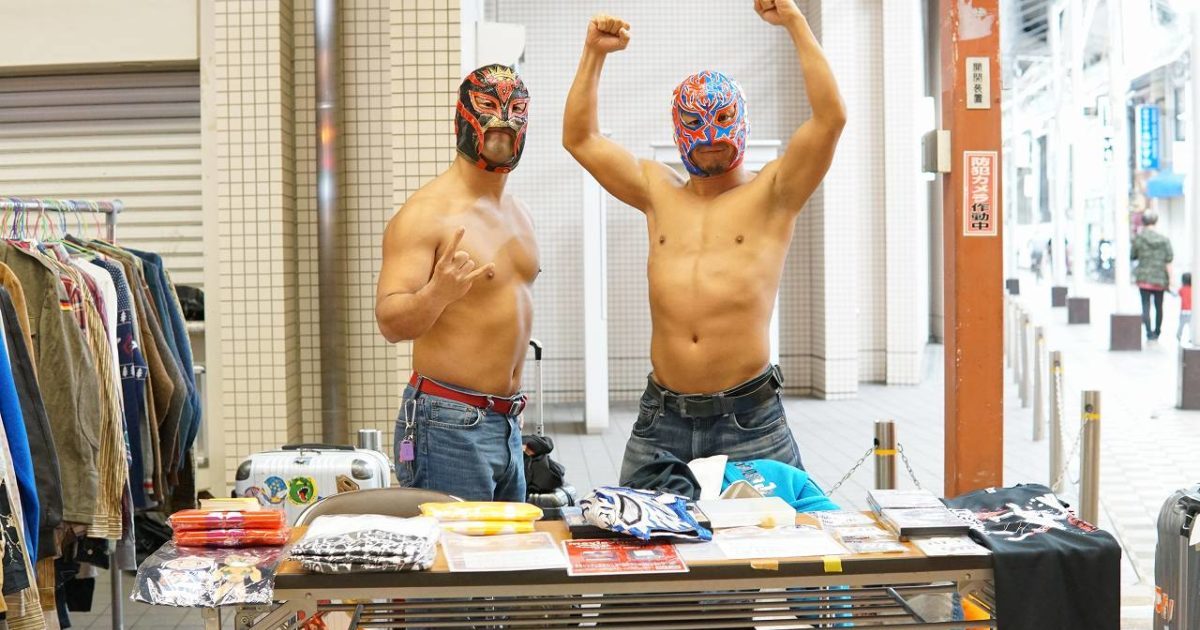 The half-naked men are actually pro wrestlers from Fuse. They are trying to revitalize Fuse by organizing wrestling fights.
Although they are tough-looking, they are actually very kind. Their funny behavior might be connected to a culture that you can almost only find in Osaka: constantly trying to make people laugh. People in Osaka love to make other people laugh by telling jokes and doing unexpected things, which might be why the wrestlers were walking around the shopping street half-naked and with their masks still on. This culture is definitely one of Osaka's charming points and what makes it so easy to take part in the community.
The wrestlers tell us that we could've watched their fight for free today. But we had just missed it, as it started at noon. We were sad because we missed it by just one hour, but maybe we'll get to see their fight next year! We don't really want to say good-bye to them, but at this point, we're seriously starving, so let's go to our next destination!
We'll talk about our bar hopping experiences in detail in part 2 of this article.
Don't miss it, if you want to learn about our restaurant recommendations around Fuse!